University Transfer
University Transfer
If you are an MDCC student planning to transfer to a 4-year college or university in Mississippi, you have landed in the right place!
The purpose of the University Transfer program is to provide students core content in the general studies curricula and electives that transfer to a university major. The curricular offerings of the College of Academics are designed to provide academic courses equivalent to the first two years of college or university work that will be applicable to a baccalaureate or professional degree. Students are encouraged to follow the course of study as outlined for the freshman and sophomore years, by the senior college to which the student plans to transfer after graduation. These majors are designed so that students can earn the two-year Associate of Arts Degree prior to transferring from Mississippi Delta Community College. Students who wish to pursue a bachelor's degree must transfer to a senior college or university.
MDCC participates, along with all other Mississippi community colleges, in an articulation agreement with all Mississippi Institutions of Higher Learning, signed July 2005. This agreement allows for over 160 prescribed areas of study, developed to allow ease of transfer from community colleges to the four-year institutions.
The Program Learning Outcomes for the University Transfer program are:
Students will develop critical thinking skills as a result of a broad-based core curriculum.
Students will be able to use technology appropriate to the content they are studying.
Students will comprehend reading from a variety of texts.
Students will improve their ability to communicate in a variety of modes.
---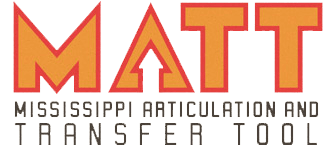 The Mississippi Articulation and Transfer Tool (MATT) will keep you on track to transfer by walking you through the 8-step transfer process. MATT can assist you to understand whether courses offered at MDCC will be accepted for transfer credit at a partner college or university, consider degree/major and institutions you want to transfer into, build a personal Transfer Guide, and obtain information relating to application deadlines, financial aid opportunities, transfer policies and other critical information.
Visit the Mississippi Articulation & Transfer Tool Website