MDCC Leads the State in Fall Enrollment Increase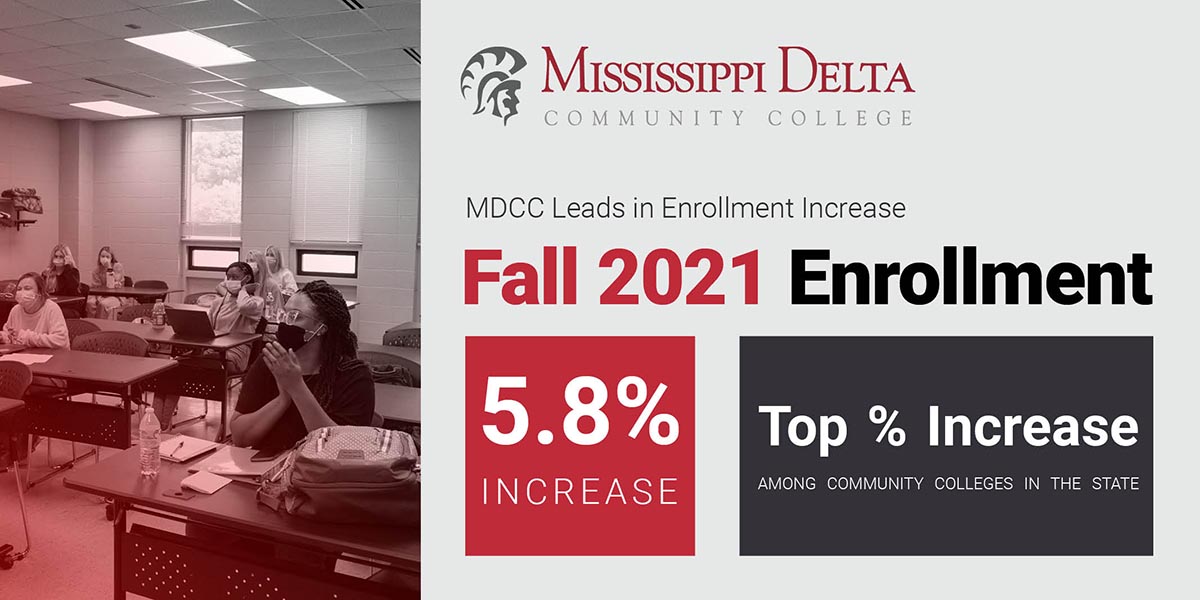 ---
MOORHEAD, Miss. (Sept. 9, 2021) – The Mississippi Community College Board recently released a report of preliminary enrollment figures for fall of 2021, and Mississippi Delta Community College (MDCC) has shown the largest percentage gain over the past year amongst the state's fifteen community colleges.
From fall of 2020 to fall of 2021, MDCC has shown a 5.8% increase in enrollment. This translates to a growth of over 100 additional students.
Many Mississippi community colleges are currently experiencing a decrease in enrollment, with the state average percentage being -5.1%.
To encourage enrollment growth, Dean of Enrollment Management James Gary implemented several successful events, including Express Registration and the Road to Enrollment Tour, which saw the MDCC admissions team set up mobile admissions stations in several towns across the Delta.
However, Gary recognizes that it was a team effort to make all the events and programs successful.
"The dedication illustrated by our faculty and staff members to serve our students was apparent as we implemented a new approach to student registration," explained Gary. "Our extended MDCC family, the area high school counselors, played a huge role in our recruiting success as well!"
"This exciting increase in enrollment is a tribute to the team spirit and work ethic of the entire MDCC family," said Vice President of Effectiveness and Enrollment Dr. Ben Cloyd. "Throughout the summer, both faculty and staff gave willingly and selflessly of themselves to help each individual student get off to a great, on-time start to the Fall 2021 semester!"
MDCC President Dr. Tyrone Jackson similarly recognizes both the accomplishment and the hard work that went into achieving it.
"The period from the fall of 2020 to the fall of 2021 has been a very trying time. We've had to learn to adapt and to overcome, and I think this achievement signifies that we have done that successfully," said Jackson. "This increase in enrollment represents the hard work and dedication of MDCC's faculty and staff to excel in serving our college and the surrounding communities despite the difficulties that we may have encountered."